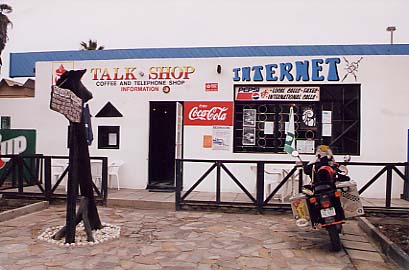 I am in a cheap internet cafe, feels more like Turkey than Hamburg, with the dialects and decor (they sell hookahs here too!). It has been a whirlwind the last week or so. I have been in Hamburg during the week, and then back to Stuttgart for the weekend. Last weekend, we drove to a spa resort town on the French border, in the North of the Black Forest, called Baden Baden. BATH BATH in Deutsch. Its a cool town, main industries are cleaning tourists and taking their money in the casinos, but the town itself is very French Riviera looking and is pleasant enough. It was especially pleasant after 6pm when all the day trippers went home. We had a great Italien meal for dinner and wandered aroudn the town. The next day we had our first Thai meal since being in Germany. Our hotel had a mineral bath spa and pool, which Mazyie loved, and we also enjoyed the spa and foot washing station and misting room that was in the hotel. 
One of the main reasons I wanted to go to Baden Baden was to take part in the traditional Roman baths that they have here. The one I went to, called
Friedrichsbad
, was built 130 years ago... to be indentical to the Roman baths that once resided here back in the good ol days. It is an all naked deal. And on sundays, when I went, it was mixed. Dont worry I didnt see any women that would make things uncomfortable in the nether reagion hahah that joke was for you Jenna. Jenna didnt want to go, her American insecurities said ``hell no!`` so she watched Mayzie, while I roamed in my birthday suit for 2 hours through 15 rooms of varrying water, steam, and air temperatures (plus a scrub down massage kinda thing from a guy who has a sister that lives in Corvallis), with the finale being an ice cold water plunge. One room was 68degrees C (160 degrees F!) . That is inhuman. I could hardly breath. They wrapped me in huge warm towels afterwards, and it was invigorating. Havent been this clean since I was born! I think I had said this before when we got the scrub down in Turkey. This was comparable to that, except I was naked this time. There were a few other naked men around but it felt fine and not uncomfortable at all. I think I am a natural naturist haha. So Euro of me! A cool experience, one that I had to have some balls to do, and one that I had to show them off abit haha.
On the way back to Stuttgart we stopped at an alpine slide. You know, you sit on a small wheeled carriage sled thingy, have a hand break in front of you and whizz down the hillside on a steal track. For €4.50 Mayzie and I had the ride of our lives. The ride down wasnt the scariest part, either. We sat on the sled at the bottom and an attendent attached a ski lift wire to the back of our sled and this thing dragged us up a VERY steep hill to the top, where we got off and got back on our sled to ride it down. It was intense and something that would not be up to code in teh US. I dont have the pictures here, but it was technillogically primative and a bit scary. Bit the ride down was awesome and Mazyie was yelling for more speed. Glad she digs this kind of stuff.
So back to Hamburg this week, for 2 weeks this time, because I am attending the world famous Wacken heavy metal festival, north of Hamburg this weekend. I had planned this festival for awhile, so I am glad it all works out with work and all. Sucks to be away from home for so long. I am doing some more Airbus training this week, so our project should be full force next week. So I looked at that apartment in the countryside and we will take it! Its kinda dirty inside so it was hard to tell how big it all was, but it will be perfect for us. Huge backyard with treehouse and swingset, very beautiful surroundings. We will move in there on October 1. Until then, my work is finding a furnished place for us in town. I will be back in Stuttgart on August 7, and on the 9th we will all drive up here. So it begins...look forward to the new adventure of the adventure. All of our stuff is being taken by a moving van on the 18th of August, so its all happening quickly.
Yup, a crazy week of flying, naked, apartment hunting, Hamburgy, hotel-y madness.